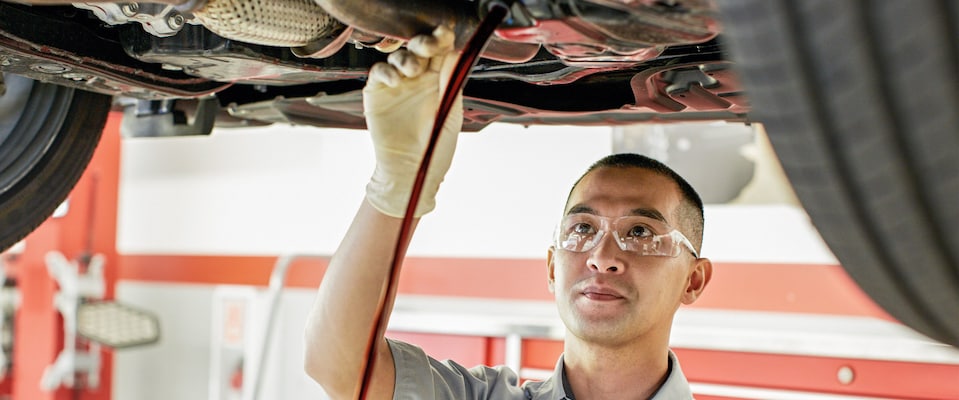 Your Key West

Toyota Service & Repair Center
Enjoy Expert Toyota Service and Maintenance in Key West
While Toyota vehicles have a stellar reputation for reliability, they still require you to keep up with regular maintenance in order to keep them running for years to come. At Key West Toyota, we're here to help you give your Toyota the special care it deserves, and with several service promotions and the promise of ToyotaCare, you'll already have a head start on maintaining your vehicle at our dealership.
About Our Service Center
The Toyota Service Center at our Key West dealership employs factory-trained Toyota technicians that know exactly what it takes to keep your vehicle on the road. With years of experience and training behind them, our team understands the entire family of Toyota vehicles, from your trusty 90's Corolla to your brand-new Prius Prime Plug-in Hybrid.
When we take your vehicle in for service, any parts that it needs will come from our inventory of Genuine Toyota parts. Whether it's a new battery to help get your engine started, spark plugs that restore power and smooth acceleration, or suspension pieces that need replacing after years of bumping along our Key West roads, our catalog of genuine Toyota parts gives you both the performance and durability that your vehicle had when it first left the factory.
ToyotaCare
When you buy a new Toyota from our Key West dealership, you'll enjoy the benefits of the ToyotaCare maintenance package to help you establish positive maintenance habits. For the first two years or 25,000 miles, you'll have all of your factory scheduled maintenance covered. Services include:
Engine oil and filter changes
Tire rotation
Multi-point inspection
Check and fill fluids as needed
Service performed by Toyota-trained technicians using genuine Toyota parts
Scheduled maintenance reminders will help you take full advantage of our free services
ToyotaCare also helps you with non-maintenance items, giving you added peace of mind while you're out enjoying your new Toyota model. The ToyotaCare Roadside Assistance package includes:
Jump starts
Lockout assistance
Emergency fuel delivery
Towing and winching
Flat tire services
Popular Services Available
Of course, every vehicle needs some common services to help you maintain the ride quality and keep it running smoothly for hundreds of thousands of miles.
Our oil and filter changes help protect your engine by removing old, worn oil and the dirty filter from your engine and refreshing both. Old oil contains contaminants and has been thinned due to heat and friction, so it is less able to properly protect your engine components. That is what makes oil changes so important, and it's why it is one of our most popular services.
Alignment services help keep your Toyota handling and riding just like you're used to. Over time, pot holes and general wear and tear can cause your suspension to become misaligned, leading to vibrations, uneven tire wear, and unpredictable handling. With state-of-the-art laser measurement technology, we can realign your Toyota back to factory spec and restore the smooth ride you know and love.
Battery testing can help you keep your appointments by warning you of a failing battery before you encounter a no-start situation. Your battery will fade before it completely fails, and understanding when you begin to lose power will help you get that fresh battery installed and avoid the inconvenience of calling for an early morning jump start.
Other common services available at our Toyota Service center in Key West include:
Car wash and detailing service
Air filter change
Cabin air filter check and replacement
Brake service and repair
Tires and tire repair
TRD Parts installation
General service, repair, and parts replacement
Visit Our Dealership Today!
Visit our convenient location on Key West to give your Toyota the proper maintenance and care it needs today! You can easily schedule your Toyota service appointment online for even more convenience, and our well-appointed waiting area and alternate transportation services are available to help improve your service experience.
Your privacy is important to us.
Key West Toyota takes your privacy seriously and does not rent or sell your personal information to third parties without your consent. Read our privacy policy.